"Life has become immeasurably better since I have been forced to stop taking it seriously.", Hunter S. Thompson
Chris and I drove to the Salton Sea area today, while waiting for our new Michelin tires to be put on the coach. This is the final fix/upgrade that we are doing until we get back in the Bay Area—and then (fingers crossed) only things of the upgrade kind! Chris' work space, water filtration system, some deep cleaning and painting, too.
But I digress. We decided to drive out there after hearing our wait time was 4 hours, and after getting breakfast at a charming local place (Sloan's, in Coachella), we headed out.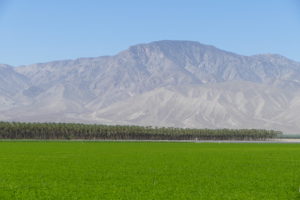 I was excited to go: I've wanted to for years, ever since I saw 'before and after' pictures and heard it's backstory. It used to be quite the "It" Place To Be in the '50's, too—starlets and movie stars, etc., with a beautiful beach, boating, resort lifestyle, etc. Now it's a bit of a wasteland; moody and mysterious. It's fascinating to me, the rise and fall of something.
Quick and imprecise summary for those who want/need it: it came to be because a river that was being diverted ran amok from the original plan, and before it was corralled again, it had dumped a bunch of water for two years into the Salton basin. Later, farming and irrigation runoff was added to the mix (fun!). The salinity gradually raised, different types of fish that were introduced have died off, and the general ambiance of the lake and surrounding area soured. If no intervention takes place, it will gradually continue to increase in salinity and kill off the remaining fish—I hope that those in government, nature conservation and 'other' can decide upon and implement a positive solution.
I was surprised to find out that it's a major spot for birdwatching!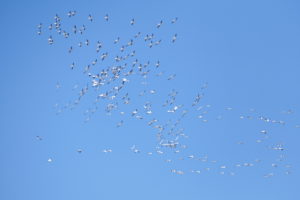 "Somehow this odd accidental lake, with its prolific fish and nearby fields, has become one of the most important migratory bird habitats in the U.S., if not the world. Millions of birds representing more than 400 species can be spotted here, including endangered brown pelicans and Yuma clapper rails. Snow and Ross's geese arrive from the Arctic; blue-footed boobies cruise up from South America. Why? Perhaps because in southern California there's no place else to go." (http://ngm.nationalgeographic.com/ngm/0502/feature5/fulltext.html)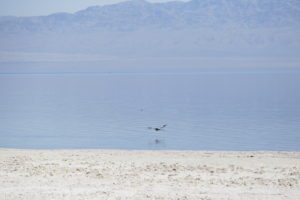 We could smell it as we drove closer to the area…definitely fishy. And with a weak pulse—totally empty and abandoned in parts, others burnt and demolished; yet there is still a community, houses, cars.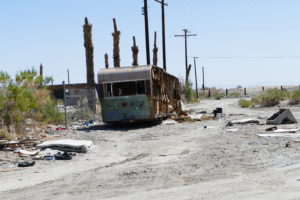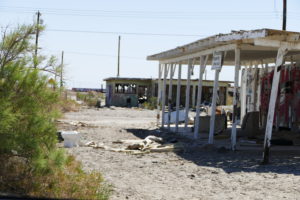 Chris and I got out of the car and walked around a bit. The look of certain places there are shocking, like something out of an apocolypse movie, I half expected to see a zombie shuffle around the corner.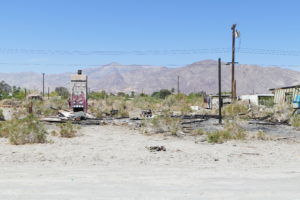 At one location, I came upon something truly near and dear to my heart: a found art piece. A pair of sunglasses wired to a smashed loudspeaker, made to look like a mouth. It's crusted with time and sand. Chris remarked that it looked like the character from Fear and Loathing in Las Vegas (Hunter S. Thompson), and he's so right! I added a bit of a stick to make the cigarette and holder…perfect!

So Hunter adds to our list of [unofficial] mascots, riding with us on the dashboard, and helping to guide our adventures!