Though Chris and I have been living in the coach for about 3 months now, we have yet to really do any big interior upgrades or renovating. That changed recently, when I worked on re-designing the toilet room and bathroom! They both previously had this horrible vinyl wallpaper with strange miscellaneous splotches of brown placed on it (such an unfortunate design to have in the toilet room, because…well…brown smears?).
One thing I discovered about the painting process (having no previous experience) is that it was pretty difficult! Particularly the taping. Urg. Ugh. Ouch. Having to contort myself to tape off all of the corners of cabinets, nooks and crannies was a workout.
Researching how to do it was another level of confusing; different websites said conflicting things! From what I can tell, if you want to paint over RV vinyl wallpaper, use an oil-based primer like Kilz. Then, in theory, you can use whatever paint you want (though I read it's really important to get as high-caliber as possible). The primer seemed to kick ass, but it was mighty fumy. I had to keep sticking my head out of the room to get some fresh air.
For the toilet room, Chris wanted a paint color that was fun and quirky, so we decided on purple!  Not wanting it too be too dark a shade, we decided on a lighter purple that was just the right shade of quirky, and I loved the name–"Magic Wand".
It's just a shame that it turns out that I ended up severely disliking THE COLOR.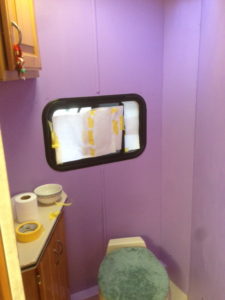 Oh, did I just put that in all caps? I meant to italicize it and underline it too.  THE COLOR is its own entity, like THE BLOB.  What was nice in theory was, in fact, an assault on the eyes and senses. It actually made me feel sick to spend much time in the room, or was that just my fever talking (Yes, I actually ending up painting the room the first time while having a severe cold/fever)?
At any rate, something needed to be done with the visual atrocity that was now our toilet room. So we painted 3 of the walls a neutral beige/light brown (the same color we used for the bathroom) and kept one purple as an accent wall.  I then decided decided to do a stencil design on two of the walls…how did I get here?
I am not a crafty person, and don't enjoy this process…or am I?  Do I?
My continued projects of adding some back splash and decorative tile in the bathroom beg to differ!
My timely RV Life Realization:
The RV'ing lifestyle opens one up to new experiences, which leads to discovering new abilities.  I really wanted to do this, and I felt determined to try it myself.  It was scary–could I do it well, and have it all look half-decent?
I experienced quite a few of pushing-myself-off-of-the-high-dive-moments, in which I just had to brace myself, hold my breath, and just jump into it.  Then, once you're in it, it's better (as is usually the case, yes?), and I actually found out that I'm pretty damn good at it, for a first-timer, if I do say so myself!
So get out there! Try something new. Discover new abilities!  More updates on the window valences and kitchen back splash coming in the not-to-distant future!