We are alive… in fact we're well and full of renewed energy for the new year.
After a bit of a rough ending plus lots of work during December, we are getting back into the groove and pledge to post more frequently about our ongoing life adventures. The crew is doing well and the rig is also holding together (after we had some unexpected and costly repairs in November – our power steering gear was leaking hydraulic fluid and needed to be replaced).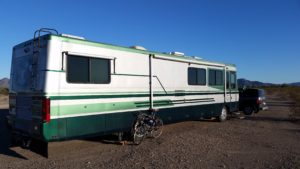 So what happened since? We were in Quartzsite, boondocking (dry camping on public lands) and enjoying the warmer winter climate until early December when I received an opportunity for a recording gig in San Francisco that Icould not pass up. So we moved Mel (our Motorhome) and the crew back to the (rather cold and wet) Bay Area and stayed even after my recording work was done to be with family and friends over the holidays.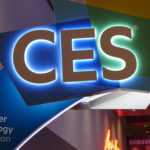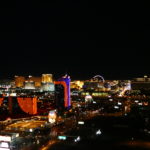 Another opportunity came right around the end of the year when I was invited to an industry party in Las Vegas during CES and since it's almost on the way back down to Arizona, we took the chance and stayed in Sin City for a few days.
After Las Vegas we had 4 quiet nights in lovely Laughlin, Nevada before arriving back in Quartzsite, Arizona – just in time for the annual events including the big RV show and market.

We wish everyone health, success and lot's of fun in 2017! 🙂