We finally did it… we left Palm Springs
after our extensive repairs and upgrades and are now officially on our way to the San Francisco Bay Area. We're really looking forward to be reunited with our house plants (which are being cared for by friends) as well as other cherished items currently in storage. And speaking of friends – it's been too long and will be great when we can all meet again (Friday night beer gatherings, even though I don't drink beer ;). And of course not to forget: family – Tracy's brother and family live in SF too.
We drove 145 miles today, and it was quite a ride; first we had a scare when our coach all of a sudden showed a "check engine" light. We panicked a little and pulled off the freeway, thinking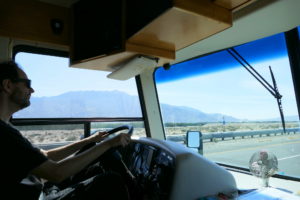 we could be stranded again (in what at that moment felt very disheartening), but at least the light turned off again after we cruised to a stop. We immediately called a few of our mechanic contacts for advice, searched the internet and studied the manuals. We learned a lot in about half an hour; if the light had flashed, it would have meant a serious problem. But since it stayed solid and turned off by itself, it meant that the engine was not operating optimally, likely also causing higher than desired exhaust emissions. The likely culprit was a bit of a steep climb up a hill just before we became aware of the problem. I felt the engine was struggling with the gears our automatic transmission was choosing (btw. it's an Allison, which is an excellent transmission nevertheless) and after studying the manuals I came up with a plan to be more proactive about what gears to use for climbs. And it paid off… the rest of the way I manually picked lower gears for steeper hills and the engine seemed to be very happy with the higher RPMs. No more check engine light and the water and transmission temperatures also stayed lower. Conclusion: you can't just drive one of these like a car… it needs a bit more attention.
We're now in Lancaster, in Antelope Valley, just over the San Gabriel Mountains, which at times provided us with stunning vistas. Tomorrow we may rest for the day until we continue our trip on Sunday. Driving the motorhome is exciting, fun, but also hard work and truly frightening at times! 😉