Chris and I originally wrote this post last week, and postponed putting it out–but we now see the proverbial light at the end of the tunnel (I hope writing this doesn't 'jinx' us). Every issue in this post has been taken care of; tomorrow we get new tires for the coach, and soon after we'll be heading back to the Bay Area to get our other remaining stuff from storage!
Here's the post, for your enjoyment.  Take pleasure in our pain:
We decided to write this next post together, because it's too much for just one of us to take on (you'll see what we mean in a minute).
Chris:  I finally drove our motorhome away from the garage in which it's been located for 1 ½ months or so – you would think "so far, so good"!
Tracy:  Unfortunately, the place we drove it "to" is yet another garage.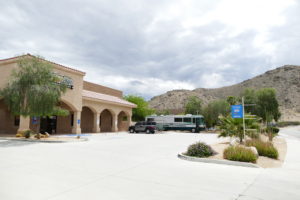 C:  We wanted to get the suspension checked due to the somewhat bouncy ride and ended up choosing to replace all the shocks. But on top of it, they found that the brakes are in immediate need of repair (the system was leaking hydraulic fluid at an alarming rate and was at this point absolutely unsafe to drive).  In addition, the process of hooking up the electrical wiring of the Invisibrake for our tow car has seemed to cause an electrical issue with the ignition switch, which still need to be sorted.
T:  I know what you all are thinking.  Yes, I do.  If you are of any kind of intelligent mindset, you're thinking that Chris and I got duped and were sold a lemon.  Yes, it can be said that Chris and I can both be somewhat naive about things, (personally I think the world needs people like us to help it go 'round), but there are reasons (of which we can go into more detail later) why we decided to go ahead and purchase the motorhome after learning that the back end had been dinged. We have been firm in our conviction to get this coach, and stand by it through the repairs and updates.
C:  The repairs on the back end were done really well (the coach is actually looking better than before!), and additionally we had two side doors repainted to fix some unsightly clearcoat failure, a back ladder was added, our engine cover got resealed, some cracked upper chassis lights in the back were switched out, etc.  But there have also been other things that badly needed repair:  we had to fix a leaky shower handle connection, and the broken automatic entry steps' motor (more about that story here).
T:  Chris and I have stayed (for the most part) very positive about the fixes that have needed to be done, because we feel it's really shaping up the coach to be a really healthy piece of machinery.   We've been told by knowledgeable RV mechanics that our Safari is overall a really solid choice in terms of chassis, engine, etc.–despite all that may point to the contrary.
C:   When I researched class A motorhomes, I really liked the pros of the Safari:  it's a long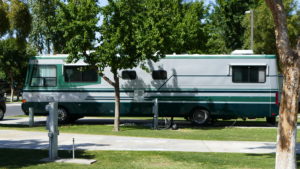 lasting diesel, has an all aluminum skin, full fiberglass roof, no slide-outs that could break, no yearly smogging requirement (because it was built before 1998), lots of storage etc.  We also had it professionally inspected, though in hindsight I'm wondering why they didn't find or point out some of the issues we're dealing with now…we're looking further into this.

T:  It's just getting through this initial process of 'working out the kinks', so to speak.  One of the more difficult things to wrestle with was not having any water hookups, combined with having fairly full holding tanks and not being able to take it to a dump station (because it's been in a garage/getting work done).  It feels like we've been hard camping for quite awhile now.
C:  Good news is that once we're finally able to clear out our holding tanks (along with a newly
filled freshwater tank), everything will go so much better, particularly for boondocking/dry camping as we've learned to be very conservative with the water!
T:  Chris has come up with an awesome way to clean dishes with a minimum of water–look for a blog post/video about it in the future!  But what I've come to decide, is that the RV Life seems to test people who choose to try this life.  It's as if there's a big "How bad do you want it?" thrown at certain individuals, and mettle has to be proven before the gates to the kingdom are thrown open.  It's strange.
C:  There are actually a lot of RVers who get on the road and have breakdowns, leaks, engine trouble, etc.  As a matter of fact, it's actually common knowledge that in the RV Life you will always have something to fix, improve or maintain – we just didn't think we'd have to do it so much at once, right from the start! 😉
T:  I'm reminded, yet again, of the tale of The Farmer from a previous post: are these repairs happening now bad? Or good? Take the brakes, for instance. It is such a lucky happenstance that the brake thing happened when it did and how it did—safely reaching a garage in which they told us the situation, and not having the brakes go out on us unexpectedly, on the road, causing untold amount of injury, harm, or worse!  We are definitely feeling the silver lining in that one.
But besides all these challenges we want to thank you for joining us on our adventure, welcome your questions, and are both are looking forward to getting past this initial phase, and taking our first ROAD TRIP!