Ah, Petaluma.
Chris and I brought a friend couple to a favorite downtown restaurant the other night. They were visiting our new motor home, and hadn't been to Petaluma before.
"I didn't didn't know Petaluma was so cute," we heard from each of them.
EXACTLY.
It really is. Many other towns in Sonoma share this same sort of quality…which is a sort mix of vintage and modern, artsy funk with a tasteful aesthetic. All mixed in with green mountains, farm and coastland. And the name: Petaluma. Just saying it makes me want to grab myself in a hug, or dig my fingernails into my cheeks because of the high cuteness quotient in it.
Since I've begun this new life of RV'ing, I've found myself saying that I've said that Sonoma and the Bay Area has spoiled me for other places. However, I hope that isn't the case, and that I'll always find charming and beautiful areas everywhere. I did find myself very attracted to the Palm Desert/Palm Springs area (and wrote about it's bewitching beauty here):
But, I digress.
In getting back to that attractive-but-hard-to-define quality of Petaluma, let me tell a little story that happened a couple of days ago:
I went to a local car wash to get Menti (our 'toad' car) cleaned inside and out. As I'm waiting to pay for the service, I see this rooster walking around the lot.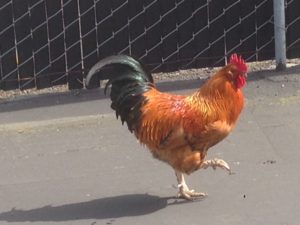 A very handsome rooster. Not just any run-of-the-mill rooster; this proud guy was gorgeous. Look at that feather color!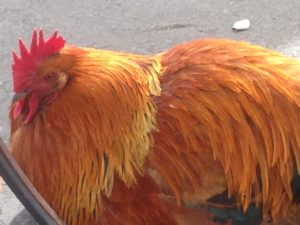 So, of course I had to ask about him when I paid, and the owner told me a bit of a back story. He showed up a short time after her father (the previous owner of the carwash) had passed, and made the place his. Many of the customers are charmed by him. He even has a chicken as a mate. The two of them have 'free reign' (relatively speaking) of the place, and are a staple there.
She also added that the rooster can get aggressive in protecting his mate or if others/children get too close/try to touch him. to me. I mean, it looks pretty clear to me that one should keep a distance—there is nothing about his demeanor that is cute or cuddly.
At any rate, I just love that: the rooster mascot and his mate of Raintree Car Wash.
And what's a post about Petaluma without including art? And wow, there's some surprising stuff that you can come upon.
Like this Huge metal whale-tale-that-has-a-whole-room-with-a-bench-in-it sculpture.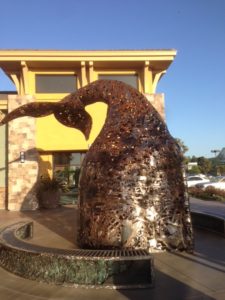 W-O-W! I couldn't get enough of it. I wanted to just stay in there, hold a meeting, eat lunch; sleep. It's such a treat for the eyes and the senses. And it's just hanging out there on the sidewalk, in an unassuming shopping area with sandwich shops and home improvement centers, instead of in the courtyard of an art museum.
Ah, Petaluma—such a mix of old and new, quaint and modern; nostalgic past and exciting future!