Whew.
Normally I would write that with an exclamation point, but I'm too tired.
Chris and I completed escrow on the house mid-February, and moved out of the house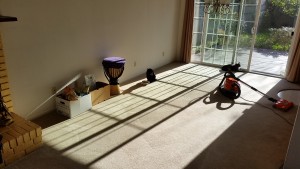 completely this past week, and BOY WAS IT HARD.
We had hoped that we wouldn't have too much to deal with, that we would've sorted/donated/sold more of our stuff by then, but…no. So, we did the only thing we could do when one runs out of time and has to vacate a home: we stuffed all of our stuff into storage.
We were also hoping that 1 storage unit would suffice—but again, no. We had to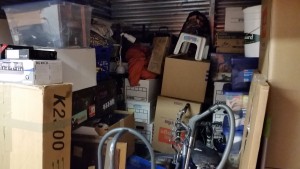 buy a 2nd, bigger storage unit in addition to the first, and THEN—get this—we've rented a 3rd one to have the room to sort through the other two, since it all got a little panicked towards the end, and less-than-organized.
Again, whew.
BUT, we're out! And the house is sold! Now…our new life in the RV'ing world!
Except…the seller of the coach we are buying ('97 Safari Serengeti, targeted for puchase after hours of research), in helping us out (driving to the DMV to work out paperwork on the sale), backed the end of it into a dumpster or something, and wrecked the back bumper!!
So what does this mean? It basically means waiting for the time being. It means that Chris and I are waiting for the insurance adjuster to come out and work out a deal with the repair shop, and then work has to commence to fix it, etc…
Meanwhile, we have the blessing of being able to stay w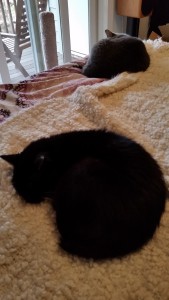 ith a close friends of Chris' (and now me) in San Anselmo right now—thank goodness—otherwise we'd be out a lot of money with hotels and boarding for the cats and such. And the cats are having a BALL—very content and happy—which is the exact opposite of what we expected from them during this experience! They are handling all of the chaos and changes with aplomb.
Perhaps that is my takeaway from all of this—my cats can be my gurus: they say relax. Be social and open with new people. Eagerly accept new and different situations. Ride the wave with a sparkle in my eye and a purr in my throat.
Purr, purr, purr.