Well, here we are back in the coach again.
And, 'Wow!' was it a happy reunion! The motorhome Looks. Great. I'm talking, making-me-fall-in-love-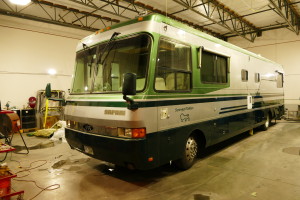 with-her, Capital-G Great. This is the moment that I've been waiting for…I'm now starting to feel proud as a motorhome owner.
And the wet-dog smell is better too; I have hope that we can actually rid ourselves of it at some point!
It's been such a strange limbo state that The Crew have all been in, waiting for small damage on the bumper and side door to be repaired. This shop, that the previous owner took the coach to is in high demand, because they do such beautiful work. They, quite simply, strive for perfection in what they do.
The RV shop basically squeezed us in as a favor to the previous owner (which said owner had failed to tell us; actually he said "Oh, they just starting working on it today, and it should be done within the week"–while, in reality (for insurance reasons) the shop couldn't start work on it until the following week, and they had to basically work on us in their spare time, and the owner/head mechanic took a nasty spill off of some scaffolding and was seriously injured, and that's why it's taken longer than usual.
And there's no rushing perfection, as they say.
Speaking of perfection, I experienced a perfect moment (several of them) yesterday on the drive to Palm Desert from Bakersfield.
Chris had read about an alternate route to take (in order to avoid the L.A. area traffic, leave the Grapevine near Gorman and continue on I-138), and it was as close to perfection as anything I've experienced.
The views were spectacular, with the poppies and other flowers just starting to show their colors—and it's only getting better onward into Spring! I mean, I was gasping and yel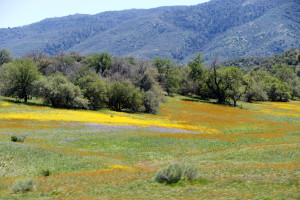 ling out loud in jubilation over the majestic beauty of the mountains.
I wondered aloud, "Are other drivers appreciating this?! I mean, no matter how crappy your life is, or what you're dealing with, are you Seeing this, and if not, why not? Let this beauty Heal You, people!"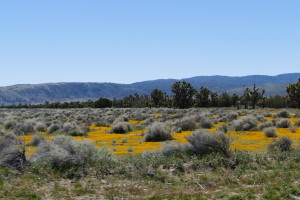 And speaking of beauty: in arriving at the shop, there were a bunch of packages waiting for us, one of them being a mattress that Chris had found, researched, and ordered. So. Awesome. It's plush. It's luxurious. It's eco-concious.
And it beats the hell out of an old, smelly, (and surprisingly, or perhaps not so?) pee-stained mattress (at least, I think it's pee—the location of the stain is an odd one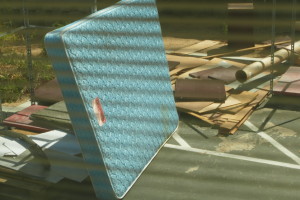 —I'm hoping it's from one of the dogs, at any rate).
Improvements continuing, all around!
Now all we have to do is learn how to drive this thing…