Chris: This is an amazing park, not to be missed! We had been there once before while visiting with Tracy's family, but the time was short and we vowed to be back for more exploration. Our second visit was different because it was overcast and slightly rainy, but it still was very beautiful! I put a video together to capture some of the breathtaking sights of the park (btw: for those who do not know the music; it's my composition from one of my game projects).
Tracy: I loved Chris' pick of music for the video, as the song was for an underwater scene in an aquarium.  Peaceful and soothing, while still invigorating.  Which, to me, describes the park exactly!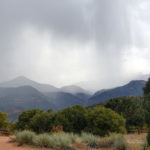 I think that one of the most striking things about The Garden of the Gods in Colorado Springs is the symbolic accuracy of the name. These enormous rock formations tower over you, and it really allows a feeling of awe to come over a person.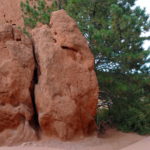 There aren't many places in which you stand at the foot of something that emanates great majestic energy, and here you get that experience over and over, because it's ALL magically majestic and awesome.  Just.  Go.  You're welcome.
Another thing: apparently, that land was privately owned back in the day, and the family donated it to the city to be forever free to the public.  Yes, yes, and more yes! Thank you Charles Elliot Perkins and family!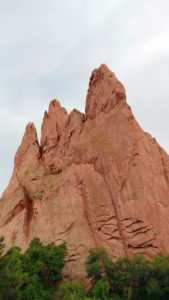 Side note:  when looking up the park's history on Wikipedia, I was amused by the following description of events that led to the name "Garden of the Gods":  "The area was first called Red Rock Corral.[2] Then, in August 1859, two surveyors who helped to set up Colorado City explored the site. One of the surveyors, M. S. Beach, suggested that it would be a "capital place for a beer garden". His companion, the young Rufus Cable, awestruck by the impressive rock formations, exclaimed, "Beer Garden! Why it is a fit place for the gods to assemble. We will call it the Garden of the Gods."
While reading it, I could just hear the voices in my head, Mr. Beach's casual arrogance and the awed young Rufus.  The expression "capital place for a beer garden" just made me crack up.  I mean, what rock stars!  Surrounded by this almost indescribable beauty, and there's a desire  to build a place to party.